A 5-month-old boy weighing 5.5 kg was admitted with complaint of generalized scaling for last two months. He was referred from periphery with a diagnosis of extensive seborrhic dermatitis and was treated with some ointment containing sulphur, salicylic acid and zinc.
Initially, mother noticed a circular greyish scaly lesion about 3 cm in diameter over frontal region of scalp. The scales were large and loose. The lesion was non discharging and scalp hair were normal. The lesion then gradually spread to involve the entire scalp and quickly affected whole of the body including palms and soles (Fig. 1). In some lesions over abdomen, pustules were found under the scales and on removal of scales pin point bleeding was noticed (Auspitz sign). During the course of illness there was spontaneous remission of some lesions which was followed by recurrence. No history of similar lesions in other family members was present. The baby was well nourished with normal motor and mental milestones. Birth history was uneventful and baby was exclusively breast fed and immunized. Skin biopsy showed parakeratosis with psoriasiform hyperplasia of epidermal lining in one area of the upper epidermal layer and acute inflammatory cell reaction with destruction of keratinocytes. There was exocytosis with spongiosis wherein acute inflammatory cells were found. Upper epidermis also showed scattered inflammatory cells.
Infantile variety of psoriasis may sometimes be confused as sebopsoriasis, i.e., in between stage of seborrhic dermatitis and psoriasis where lesions are mainly confined to scalp, eyebrow and behind the ear but on histopathology typical spongiform pustules are absent. Infantile variety of psoriasis is rare (about 1-2% of pediatric psoriasis) and only two cases of congenital variety have been reported.
Infantile psoriasis is a benign disease. Systemic features are rare and spontaneous remission occurs. There is a hazard of viral infection particularly in steroid treated children. In this child most of the lesions disappeared with bland therapy.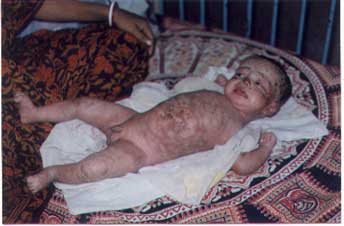 Fig. 1. Photograph showing extensive scaling all over body including palms and soles and pustules over abdomen.
K. Nayek,
M.K. Dasgupta,
Department of Pediatrics,
Calcutta Medical College and Hospital,Kolkata, India
Correspondence to:
Dr. Kaustav Nayek,
Kantapukur Lane,
Laxmipurmath, Burdwan-1
West Bengal 713 101, India