ISSN(Print)
0019-6061



Indian Pediatrics
announces
14th Workshop
on
"Art & Science of Writing a Paper"



For registration write to us at jiap@nic.in




Current Issue: Indian Pediatrics April 2016; Volume 53: Number 4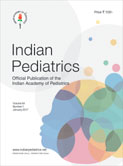 President's Page: Goodbye Switch and Imminent Polio Victory
Editorial: Clitoral Length in Indian Newborn Girls: Need for Regional References
Editorial: Why Antibiotic 'Invisibility Day' is Better than 'Invisible Antibiotic' Future?
Special Article: Antimicrobial Stewardship in Pediatrics: An Indian Perspective
Research Paper: Antimicrobial Justification form for Restricting Antibiotic Use in a Pediatric Intensive Care Unit
Research Paper: Fractional Exhaled Nitric Oxide for Identification of Uncontrolled Asthma in Children
Research Paper: Stress in Fathers of Premature Newborns Admitted in a Neonatal Intensive Care Unit
Research Paper: Retinopathy as a Prognostic Marker in Cerebral Malaria
Review Article: Approach to Constipation in Children
The art and science of writing a paper: Writing Methods: How to Write What You Did?

Click to view full table of contents ..............

Next Issue: Indian Pediatrics May 2016; Volume 53: Number 5
Research Paper: Age of onset of puberty in apparently healthy school girls from northern India
Research Paper: Neurodevelopmental outcome of extremely low birth weight children at corrected age of two years
Research Paper: Cognitive functions and psychological problems in children with sickle cell anemia
Research Paper: Lactose and fructose intolerance in children with chronic abdominal pain
Update: Updated neonatal resuscitation guidelines 2015


Click on image to open photo gallery







Editorial Office

Editor-in-Chief,
Indian Pediatrics,
115/4, Ground Floor, Gautam Nagar,
New Delhi-110 049, India.
Tel: + 91-11-26961468; E-mail: jiap@nic.in




Disclaimer: The Views and opinions expressed in the articles are of the authors and not of the journal. Indian Pediatrics Does not guarantee directly or indirectly the quality or efficacy of any product or service featured in the advertisements in the journal, which are purely commercial.



ISSN(Online)
0974-7559