Enlargement of breast tissue in new born infants is a common physiologic hormonal phenomenon. Excessive manipulation can result in secondary infection.
A twenty days old male child was brought with complaint of excessive crying. On examination there were bilaterally enlarged tender breasts (Fig. 1). Infant was febrile and had an umbilical hernia. There was history of repeated squeezing of both the breasts of the infant by the grandmother to express the "bad milk" from the breast. (a common rural practice). This resulted in secondary infection of the enlarged breasts.
The infant was treated with systemic antibiotics with advise to avoid further mani-pulation. The swelling subsided in a week. If an abscess develops it would need drain of. Secondary infection can be prevented by avoiding maniputation of enlarged breasts in the newborn.
A. Ramachandraiah,
Child Care Center,
4/419, Nagarajpet,
Cuddapah-516 001,
Andhra Pradesh, India.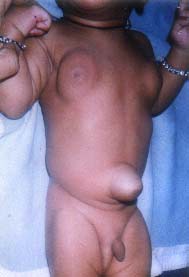 Fig. 1. Bilateral enlarged breasts and Umbilical hernia