A 3-month old boy presented with soft tissue swelling on both sides of the cheek associated with fever and irritability of 3-weeks duration. The body of mandible was thickened on both sides. X-ray showed cortical thickening of the body of mandible. CT Scan showed periosteal reaction and new bone formation with resultant diffuse thickening of the mandible involving predominantly the ramus, head and coronoid process (Fig. 1). The child improved on oral prednisolone (2 mg/Kg/Day).
Infantile Cortical Hyperostosis is characterized by new bone formation and intraperiosteal inflammatory reaction extending into the neighboring soft tissues. Bones affected include flat bones especially mandible, scapulae, ilium, frontal and parietal bones, ribs and ulnae. Vertebrae and round bones are spared.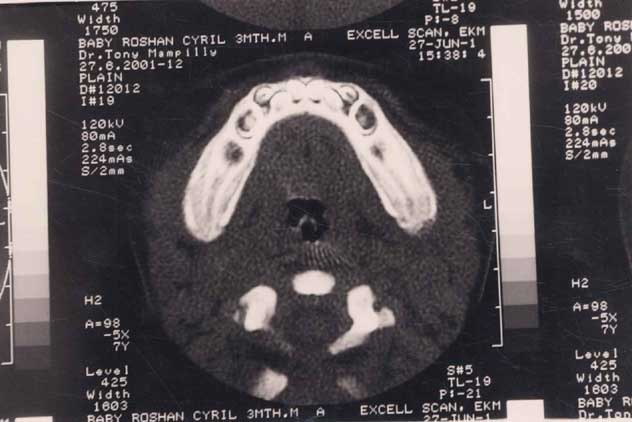 Fig. 1. CT scan showing periosteal reaction and new bone formation with thickening of the mandible.
Most cases are sporadic and present in the first few weeks of life. Familial incidence compatible with dominant inheritance has also been reported. Blood test may show anemia, thrombocythemia, and raised ESR and serum alkaline phosphatase. X-ray of the affected part showing cortical thickening of the underlying bone is diagnostic. Trauma, scurvy, osteomyelitis, bone tumors, parotitis, parotid gland abscess, etc may mimic this condition. The disease has a protracted course ranging from weeks to months interspersed with remissions and relapses. Corticosteroids are effective in controlling symptoms in children with widespread disease.
Rajesh Varma,
Johny V.F,
Department of Pediatrics and Neonatology,
P.V.S. Memorial Hospital Limited,
Kaloor, Cochin,
Kerala- 682 017, India.