An 8-year-old boy presented with painful erythematous papules over tongue and excessive salivation for 3 days. On examination, tongue was studded with multiple erythematous tender papules and few vesicles (Fig. 1) Submental and submandibular nodes were enlarged and non-tender. The lesions resolved completely after 10 days. The condition was diagnosed as Eruptive lingual papillitis (ELP) based on typical presentation – acute onset, painful lesions on tongue only (no other mucosal or skin lesions) and excessive salivation.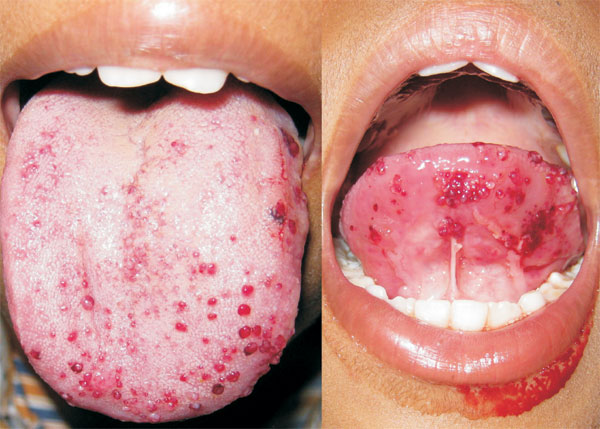 Fig. 1 Multiple erythematous papules and few vesicles over tongue. Excessive salivation can be appreciated.
ELP is an acute self-limiting condition, probably of viral origin, involving the fungiform papillae of tongue of children. Fever, difficulty in feeding, salivation and cervical adenopathy are usually associated. Spontaneous involution is seen in 2-15 days but may recur. Differential diagnoses are Strawberry tongue of scarlet fever (widespread erythema and minute papules on skin), hand-foot-mouth disease (vesicles on palms and soles), and food allergy. There is no specific treatment apart from. maintaining oral hygiene.