Inflammatory linear verrucous epidermal nevus (ILVEN) syndrome is a neurocuta-neous disorder characterized by specific skin lesions and a myriad of visceral manifestations, which represents a dysembry-ogenesis with both ectodermal and mesodermal malformations occurring in a regional pattern. This probably reflects an abnormality in the normal process of induction wherein one embryonic layer induces the development of the other. We present an unusual association of ILVEN syndrome with bilateral vertebral artery occlusion, which has not been previously reported
Case Report
A 10-year-old male, product of a non-consanguineous marriage had a normal birth history and development. There was no significant medical history in the past including viral infection or prothrombotic diosrders. He presented with a generalized seizure and was noticed to have an extensive verrucous hyperpigmented skin lesion linearly distributed over the lower trunk and left lower extremity along the lines of Blaschko (Fig. 1). The lesion, present since birth, had been flat and of light brown color initially. All the other systems were nromal. Subsequently, the child developed a right sided hemiplegia with aphasia, which recovered over a period of 2 weeks.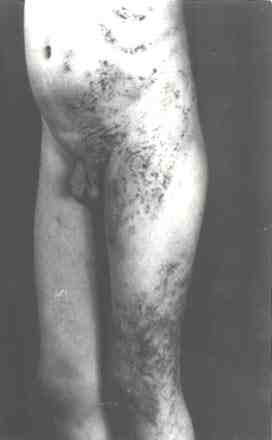 Fig. 1. Inflammatory linear verrucous epidermal nevus (ILVEN) on the trunk and left lower limb along the lines of Blaschko.
All routine investigations were normal. Fundoscopy, abdominal ultrasonography, IV urography, cardiac color doppler and skeletal survey were normal; ruling out visceral ano-malies. Other investigations for the etiology of hemiplegia (hematological, immunological and infectious) were normal. A cerebral CT scan showed an infarct in the right thalamus which failed to explain the right hemiplegia and aphasia and hence a digital subtraction angiography (DSA) was advised, which revealed bilateral vertebral artery occlusion with a good collateral circulation (Figs. 2a & 2b).
Fig. 2 (a)

Fig. 2 (b)

Fig. 2. Digital subtraction angiograms of the vertebral arteries (VA), lateral view (2a = Left VA, 2b = Right VA) showing occlusion of both vertebral arteries in their cervical course at C3 - C4 vertebral level (indicated by arrow). Through the deep, ascending cervical arteries and aprominent ASA there is reformation of the distal vertebral arteries bilaterally at C1 level.
A left pontine infarction was picked up on MRI-Angiography (Fig. 3) and the bilateral vertebral artery occlusion was confirmed. On retrospective questioning, the child denied any symptoms of vertebrobasilar insufficiency.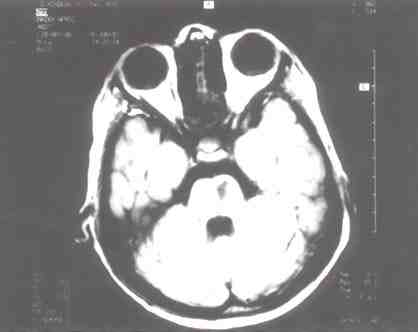 Fig. 3. Magnetic resonance T1 weighted image showing an infarct in the left pontine region.
Discussion
The truism, "the skin is a window to the body", has never been more illustrated than in cases of neurocutaneous syndromes where the classical dermatological lesions are diagnostic of the underlying neurological condition. The ILVEN syndrome is one of the rarest of these disorders. Since its first description by Jadassohn in 1895(1), cases continue to be reported worldwide.The diagnostic skin lesion is flat, fleshy or yellowish-brown, commonly on the face or extremities at birth or shortly thereafter; progressing to a deeply pigmented verrucous nature characteristically distributed linearly along the lines of Blaschko. These lesions may progress till puberty, rarely resolve or undergo malignant transformation to basal cell epithelioma(2). A few familial cases have been reported which supports the possibility of a genetic influence, though no clear-cut inhertiance is documented(3).
Patients with ILVEN are at high risk for CNS complications. The skin lesion may precede neurological disturbances as was the case with our patient. Neurological manifestations may be due to structural, physical or vascular malformations and are common if the nevus is present on the face(4). Mental retardation, seizures and focal neurological deficits including cranial nerve palsies are common presentations(2,4). The neurological deficit is usually ipsilateral to the skin lesion while in our child it was contralateral. Absence of mental retardation inspite of significant neurological manifestations has been described(4), as seen in our patient. Cerebrovascular malformations such as angiomas, AV malformation, cerebral vessel aneursym, hypoplastic, dysplatic or occluded cerebral arteries and nonfunctioning major cerebral venous sinus have been reported(4-6). The extensive review by Baker et al. of cases reported over a 20 year period, provides evidence for an association of abnormal intracranial vasculature with ILVEN syndrome(4). The unique feature of our case was the absence of a facial lesion although the patient had significant neurological symptoms. Also the presence of bilateral vertebral artery occlusion has not been reported in literature. Other neurological manifestations are reviewed in detail elsewhere(2,4,7). Visceral anomalies of the eye, heart, kidney and skeletal systems are common and may evolve over a period of time, warranting repeated investigations(2,4,7). Hemihypertrophy of the limbs and bone, megalopinna and vitamin D resistant rickets are some of the rare presentations(2,8). Patients with ILVEN are at an increased risk of endocrine and systemic malignancies (for example astrocytoma, carcinoma of esophagus, stomach, salivary gland, breast, urinary bladder; Wilms tumor, nephroblas-toma, arrhenoblastoma, rhabdomyosarcoma and intrathoracic teratoma(2,4,9-11).
Treatment is mainly conservative, atleast till the final extent of nevus has been established (usually by puberty). Dithranol application may be tried(12). Surgical excision may be attempted but often results in keloids or hypertrophied scars. Cryosurgery using liquid nitrogen or carbondioxide laser, have been tried(13).